For JT, Neon Tubing, 2004
Location: Lobby, Buck Hall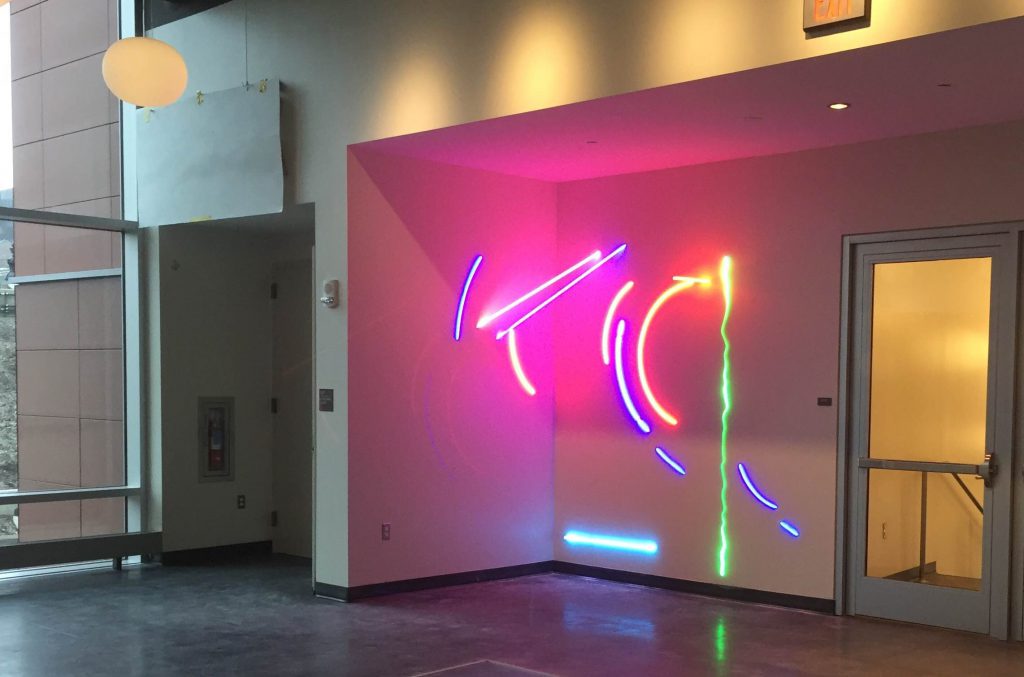 Stephen Antonakas used neon as other artists use paint. Since 1960, "his medium was light.…with "glass, an electrical charge and Element No. 10 on the periodic table…he created abstract sculptures that illuminated indoor and outdoor spaces in cities around the globe, instantly recognizable for their vibrant colors and sinuous lines." (New York Times, September 7, 2013).
The Greek born artist moved with his family to New York at age 4, and thenceforth he called New York his home. His creations were featured in over 100 one-person shows. His work belongs to public and private collections around the world, including the Metropolitan Museum of Art, The National Gallery of Art in Washington D.C., the Allentown Art
Museum, and the National Museum of Contemporary Art in Athens.
His colorful light sculptures enhance over 90 public spaces, such as airports, transfer stations, police stations, office buildings, and cultural centers in Japan, the United States, Israel and Europe.
In addition to his lighted neon works, his creations include collage work, paintings, drawings, and architectural models. Antonakos was the Lafayette College Grossman Artist in Residence in 2004. The Karl Stirner Arts Trail will be graced by Antonakas's creations at both the start start and finish- beginning at Buck Hall on 3rd Street in Downtown Easton and ending with a large scale sculpture at SILK for the 100 foot smoke stack and boiler house at the end of the Bushkill Creek corridor and KSAT.