Friday, July 8 at 7:00 pm
PERFORMANCE EVENT
HEIDI WIREN BARTLETT & COLLABORATORS
KARL STIRNER ARTS TRAIL | PERFORMANCE STARTS AT THE PEDESTRIAN BRIDGE SILK Upriver is a project including a series of sculptures culminating in a performance event on Bushkill Creek. Debuting on July 8, the work is an active collaboration with local artists, scholars, geologists, musicians, and engineers. In a procession down the Karl Stirner Arts Trail, stories will be told, action will transform, and each element will be constructed to reflect the potent history of the Lehigh Valley and mythologies of "The Place at the Forks." There will be sacred rocks, iron, steel, hex signs, and witches. It should be known, in the end, what is left was already upriver.
The event starts in the Simon Silk Mill parking lot (1262 Simon Blvd.), at the pedestrian bridge. Everyone is welcome and the event is free and should run about one hour long. Parking is available on Bushkill Drive at the corner of 13th St. in Silk's upper level parking lot. Overflow parking can be found in the back lot of Silk. We look forward to seeing everyone there. Close toed sneakers, hiking shoes or boots are suggested.
---
Saturday, July 9 at 7:00 pm
SOUND BATH EXPERIENCE
JOHN MURACO of HEARTWELL HOUSE
GROSSMAN GALLERY|WILLIAMS VISUAL ARTS BUILDING | 243 North Third Street
Reservations Requested. Email: info@karlstirnerartstrail.org Subject: Sound Bath Reservations
During this sound meditation, your only task is to be comfortable. Blankets, pillows, and comfortable mats are provided, but feel free to bring your own. A gently guided relaxation experience will be followed by the sounds of crystal singing bowls, gongs, and the sounds of other instruments. The nature of these sounds can support movement through emotions and deepen awareness.
---
UPRIVER has been made possible by a generous grant through the Lehigh Valley Engaged Humanities Consortium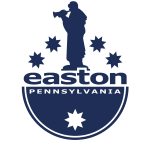 Special thanks to the following UPRIVER collaborators:
Horses Unplugged, Bethlehem, PA
Bluestone Gardens, Raubsville, PA
Jim Caffrey Studios, Easton, PA
Easton Public Works Department, Easton, PA
Quality Machining and Fabrication, Easton, PA
Rivers of Steel, Pittsburgh, PA
Visionary Effects, Pittsburgh, PA