For event info click here.
Heidi Wiren Bartlett is a filmmaker, sculptor, and performance artist from the Great Plains. Her work is concerned with the portrayal oppression and subversive existence of women in America today. She sees her body as an object of power and vulnerability and she sees Nature and its processes the same way. Together these inspire a practice that illuminates the overlooked and forgotten. Whether creating laborious action or objects, she blurs the line between public and private deconstructing notions of gender, race, and corporeality. She holds an MA and MFA in Intermedia from the University of Iowa. She currently lives and works in Pittsburgh PA, is an Artist & Designer at Carnegie Mellon University, and co-founder of Propelled Animals, a transdisciplinary arts and social justice collective.
In 2021, Bartlett's work was featured in the Resonance: A Journal of Sound and Culture, she was a Max Kade Fellow (Easton, PA), an artist-in-residence at the Kelly Strayhorn Theater (Pittsburgh, PA), and a National Performance Network (NPN) Artist Engagement Fund & Storytelling Grant awardee. She has recently been nominated for the United States Artists Fellowship and selected as a roundtable scholar for the "What Can Museums Become?" symposium hosted by the Stanley Museum of Art.
Her studio is currently housed at the Brew House Association in Pittsburgh, PA and she is an artist-in-residence at High Concepts Labs in Chicago, IL.
"The deep time recorded in the Pennsylvanian landscape is unlike anything I've known; including the geologic time that birthed the American Industrial Revolution. There's magic in these mountains and they have much to tell."
– Heidi Wiren Bartlett
UPRIVER is a conceptual public art piece that will live along the Bushkill Creek on the Karl Stirner Art Trail in Easton, PA. Debuting in July 2022, the work is an active collaboration with local artists, scholars, geologists, musicians, and engineers. Each element constructed to reflect the potent history of the Lehigh Valley and mythologies of "The Place at the Forks." There will be sacred rocks, iron, steel, hex signs, and witches. And it should be known, in the end, what is left was already upriver.
UPRIVER is directed, developed, researched, and constructed by Heidi Wiren Bartlett, 2022 artist-in-residence, on the Karl Stirner Arts Trail in Easton, PA.
Director of Photography: Margaret Champagne
UPRIVER has been made possible by a generous grant through the Lehigh Valley Engaged Humanities Consortium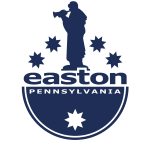 Special thanks to the following UPRIVER collaborators:
Horses Unplugged, Bethlehem, PA
Bluestone Gardens, Raubsville, PA
Jim Caffrey Studios, Easton, PA
Easton Public Works Department, Easton, PA
Quality Machining and Fabrication, Easton, PA
Rivers of Steel, Pittsburgh, PA
Visionary Effects, Pittsburgh, PA