Read the Nurture Nature Center press release (click)
A free mobile app game which helps to discover the art, nature and culture along the KSAT, was released to the public on April 14, 2018 at 2:30 PM.
The app provides information and challenge questions. Those completing all the challenges become agents of discovery.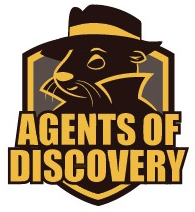 Agents of Discovery is a free app available for iOS and Android. Download app and allow location service to locate the KSAT. You can create an account or use the app as guest.
Begin your adventure of learning about nature, art and culture along the trail.